Securefix CHG Chlorhexidine Gluconate (CHG) I.V. and Catheter Fixation Dressing is a transparent iv dressing proven to reduce CRBSI and vascular catheter colonization that aligns with evidence-based guidelines and practice standards. The dressing provides four essential elements you need to protect I.V. sites in one integrated, easy-to-use product.
-Infection reduction
-Site visibility
-Consistent application
-Catheter securement
In vitro testing (time kill and zone of inhibition) demonstrates that the gel pad in the dressing has an antimicrobial effect against a variety of gram-positive and gram-negative bacteria, and yeast. dressing is transparent, allowing continual site observation, and is breathable, allowing good moisture vapor exchange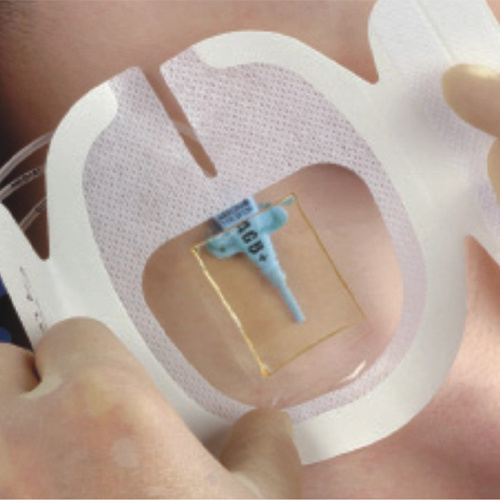 Reinforced Document tape strip Allows for documentation and can help to Secure hubs, lumens and tubes.
Chlorhexidine Gluconate (CHG)gel pad Provide immediate and continuous antimicrobial protection
Nonwoven reinforced with notch Dot coated border improves the breathability Notch design conforms around catheter hubs and lumens
Transparent & waterproof film Provides a barrier to microbes and external contaminates Securement tape with notch Helps keep catheters in place​Reduce CRBSI and vascular catheter colonization Integrated design allows for easy and consistent application
Cardiovascular, Dialysis Center, EMERGENCY, I.V. Therapy, Intensive Care Unit, Medical-Surgical, Oncology, Operating Room-Surgery, Radiology, Urgent Care, Wound Care
Short peripheral I.V. and midline venous catheters
Central venous catheters (including subclavian, jugular, femoral and PICCs)
Dialysis catheters
Arterial catheters
Epidural catheters
Other percutaneous devices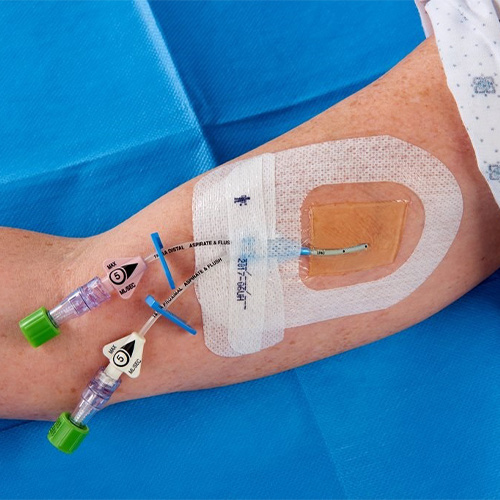 Customized and OEM are available
| Ref | Size(cm) |
| --- | --- |
| 623616 | 7x8.5(2x2) |
| 623678 | 8.5x11.5(3x4) |
Chlorhexidine Gluconate (CHG) I.V. and Catheter Fixation Dressing